Using Switch Control Center.
The Switch Control Center is the management window for all switches. With this program, you can load (push) switchlets to specific switches, control switchlets, send routing information to switches and generate traffic data. Figure 4. shows main window of Switch Control Center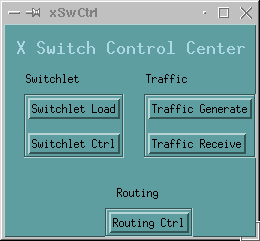 Figure 4. Switch Control Center main window
Switch Control Center has buttons in three categories.
First category is the delivery and control of Switchlets. Switchlet Load button shows Switch Load windows, which can push switchlet to a specific switch. Each switchlet may have application specific controls. Switchlet Ctrl button shows list of switchlet controls.
Second category is traffic. When you click traffic generate button, you can see the window which can generate traffic data.
The last category is routing. You can send routing information to switches by clicking Routing Ctrl button and input appropriate parameter in the window.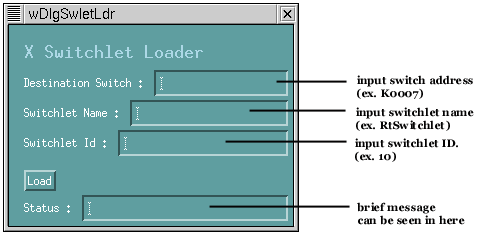 Figure 5. Switchlet Loader
As can be seen in figure 5. you can send switchlet to a specific switch. In destination switch field, you have to input address which is starting with "K". For example, "K0007", except quotation mark. In sample configuration, there are two switches; "K0007" and "K0008".

Figure 6. Switchlet Control list window
Figure 6 shows switchlet control list window. At this time, there is only one control, CutSwitchlet control, is available. You can start CutSwitchlet control window by double clicking on the cutswithlet field.
If your control is related to traffic, then the traffic should already exist. because it controls the traffic not switchlet itself.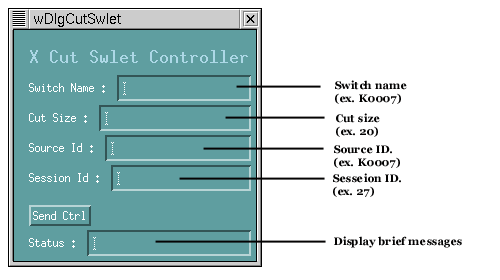 Figure 7. CutSwitchlet Control window
Figure 7 shows CutSwitchlet state control window.
In Switch Name field, you write switch address. For example "K0007". Cut size field is used to specify the cut size in bytes. Default cut size is 10.
In this particular example the traffic is identified by source address and session ID. These two fields are set next. Source ID fields is needed for the address of the source, for example "K0007", Session ID example is 27.
After filling up all the fields, press Send Ctrl button to send CutSwitchlet control command to the switch.
Be sure, that the traffic, which is identified by source ID and session ID already exists. In other words, First send traffic using traffic generator, and then send control command using CutSwitchlet control window.
One more things to note in this example is that that you may need to send the state control command to the switchlets on each switch separately. Here the data is travelling via K0007 and K0008 switches and the destination is K0009. Initial cut size is 10. Now you want to change the cut size to 50 of the path. Then you have to send CutSwitchlet state control command changing cut size state to 50, to both K0007 and K0008. Changing the cut size to 50 only one of the switches the path will not deliver message of size 50 at the receiver.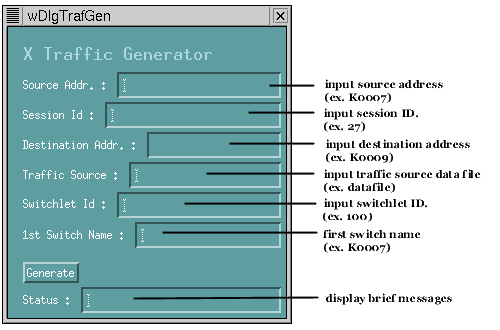 Figure 8. Traffic generator window
Figure 8 shows traffic generator window.
In traffic type ID field, the number, which you wrote in switchlet load switchlet ID. is needed. If you write 100 in switchlet ID. field in switchlet loader, write 100 in traffic type ID. field in traffic generator.
Figure 9 shows the routing switchlet state control window.
You can input switch info. file name SwitchList, which contains the switch addresses to receive the routing tables.
Routing table file name may be the filename of the routing table. For example, RtTbl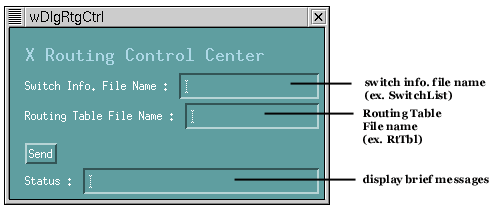 Figure 9. Routing control window